Submitting Entries
Batch Torrents
With most torrent creation programs, the folder name the files are stored in will be the name the torrent appears as. Please name this folder descriptively.
User Registration
Registering allows entries to show your username. You can also allow people to search by all submissions associated with your username.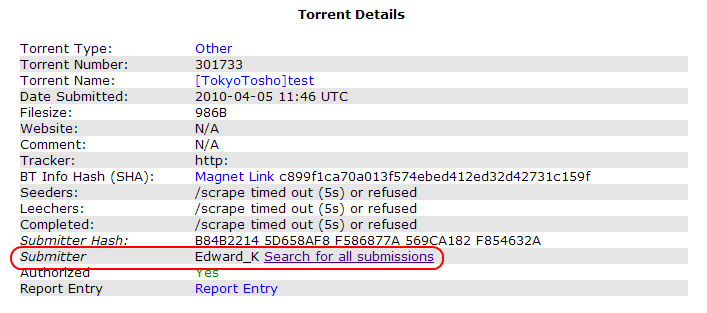 Group Tags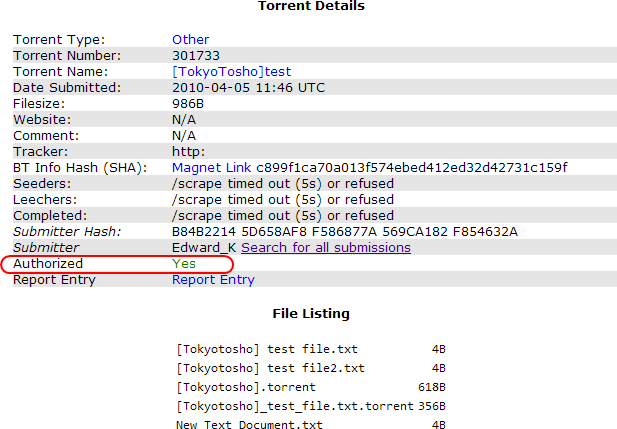 Associating your account with a group tag allows searches and details to show that this account is indeed authorized to post entries with tag in the filename. In the below example, Edward_K and [Tokyotosho]. If another user posts an entry, the "Authorized" field will show No. Multiple group tags can be associated to a username. In future, a user preference will be created that will allow blocking all unauthorized entries.

Registering a group tag
Contact Edward_K or minglong on #tokyotosho @ irc.rizon.net to set it up. Please leave your username on TokyoTosho, the group tag to be registered, and a way of method of verifying your ownership, usually by having Channel OP of the group's IRC channel or website notice saying your username on TT is allowed.
Edward_K is at work 10 hours a day, ensure the above information is available so that it can be verified right away.